Frozen Pie Giveaway! And, Keeping it Easy for the Holidays!
This post brought to you by Edwards. All opinions are 100% mine.
Since when did the holidays become the busiest time of the year? There are so many cookies to bake, presents to wrap, and Christmas decorations to hang all over every inch of the house. As soon as December rolls around, I'm suddenly overwhelmed with all of the holiday traditions I'd like to take part in. During this time of year, I'll take all the shortcuts I can to maximize my time and make the most of the short Christmas season.
Shortcut #1: Send e-Cards! Let's face it, there are plenty of friends and family you'd like to send a quick wish for tidings of good cheer. I'm guessing that 99% of them have an e-mail address these days, and probably check their inbox way more often than their mailbox. Save the trees and stamps, and send some e-Cards instead!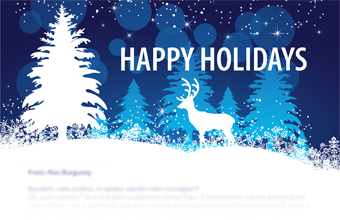 Edwards Desserts is making holiday e-cards super simple for you. Simply head over to their holiday e-card website, and get sending!  Choose from two card designs, make a list of recipients, and write a special message! I love that you can customize the card for each recipient or send the same message to all of your family and friends. And, even better, give your friends the gift of savings!  After your customized message, there's a coupon link to save some bucks on an Edwards dessert!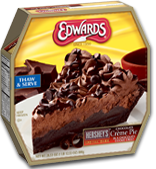 Shortcut #2: If you running out of time before a holiday party (or even Christmas dinner!), run to the store and pick up one or two Edwards Crème pies! There's so many unique flavor options, so you're bound to find one that all of your guests will love! And, bonus!, for the rest of this month Edwards Desserts is giving $1.00 for each product sold to Toys for Tots. Give back, people!
I picked up the Turtle variety, a frozen pie topped with pecans, chocolate, caramel and whipped cream. Mr. Big Flavors is huge on anything turtle, so this was the logical choice for us.  But, there are plenty of other choices – Cookies and Creme, Georgia Pecan, Reese Creme, and Key Lime Pie to name a few!
Haven't tried an Edwards Frozen Pie yet? Well, if you're the winner of this giveaway, you're really in luck! Because, Edwards Desserts is giving away a coupon for a FREE pie! Since we're all trying to save time (and money!) during the holiday season, how could you not want to win yourself some free pie!? And, if FREE PIE weren't enough, Edwards Desserts is also making a $20 donation to Toys for Tots in YOUR name. Give back this holiday season! (Did I also mention, free pie is involved?)
It's so simple! Leave me a comment telling me which pie flavor you'd like to try if you win! Then, leave a second comment after you've liked Edwards Desserts on Facebook! Finally, earn yourself a third entry for by leaving a third comment when you like Little Kitchen Big Flavors on Facebook! Giveway ends on 12/18 at midnight!
And the winner is: